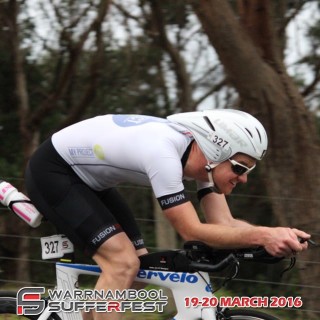 Sufferfest Warrnambool | 2016
With 40 days to go till Ironman Australia in Port Macquarie, Sufferfest Warrnambool was going to be a good gauge as to my progress. Training has been going pretty well, we have lifted the swim sessions in terms of distance, ramped up the intensity on the bike and continued to develop the run.
Sundays race was a great opportunity to blow out the cobwebs and test some strategies.  I checked in with Mark (coach) on Thursday night to run through the race strategy, we set some target rates in which to hold on the bike as well the pace for the run.  My recent form on the bike left me feeling confident for that leg, but as always, my ability to put a solid run together has yet to be realised.
Having said this, I had the benefit of my own Sufferfest a few weeks earlier, this as a result of mis-reading training peaks, instead of 1 set of 5 x 2min @ 1500m pace, I did 3 sets of 5 x 2min @ 1500m pace.  I can still hear Mark laughing ?.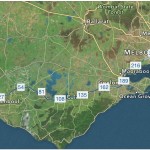 Sufferfest was held in Warrnambool, a town close to my heart after my ride with EJ back in October last year.  Although the drive from Melbourne to Warrnambool on Saturday seemed to take for ever, maybe its because I now know every bit of the road.
Sufferfest registration was not as intense as an Ironman set-up, so it was pretty relaxed at the venue, even better that I didn't need to check the bike in until Sunday morning, so I could get a ride in before dinner.  This was much needed after the 3.5 hours of driving.
My training on Thursday and Friday left me feeling a little flat, my quads weren't feeling great, so Mark suggested I get out and do a ride on Saturday, see how the legs were feeling and do some race pace sections. After around 30mins, the legs felt a little better, not great, but certainly better than a few days ago.
It was also a good time to check out the course which was surprisingly good, plenty of scenary, lots of cows to talk to and even some alpacas.
Race morning started as normal, sitting at the dining table trying to convince myself that sodium loading didn't really taste that bad. Anyhow, I downed the drink in record time, had a shower and in a first for myproject40, rolled out the door, down the hill and into transition.  Yep, I planned the accommodation to perfection, only 5 minutes from the site.
SWIM – 2km
I am never big on running to the front for the swim start, I pick a spot, get some clear water and quickly find my pace.  Sunday was no exception, by the first buoy I had cleared the majority and settled into a comfortable pace.  I reeled in what I thought was the leader, but clearly I didn't de-fog my goggles enough as there was one other in front, so I settled for 2nd out of the water, 7th best overall (2km – 26:56).  I can safely say, the Blue Seventy Helix from the aquashop is awesome and the reverse zip makes getting the suit off seamless, no more contorsionist moves in transition.
BIKE – 80km
The bike course was a lot of fun, it was up and down most of the time, so it was a good test of my ability to keep the power on for the 4 laps.  I wanted to to a negative split, although I did go out reasonably hard on the first lap.  Lap 2 was pretty consistent as was the third and I brought it home strong for the 4th. I dropped 1 place on the bike, but otherwise held my own. Bike course completed in 2:02, 3rd in category, 13th best overall.
RUN – 20km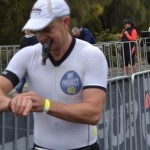 After the solid bike, I was hoping I would have the legs to do a reasonable run, but as mentioned earlier, I haven't really managed a good run in the past 4 races.  Sunday started out no different. At least my new fusion multisport speed suit looked the part!.
I quickly got my first Gel down and settled into a rhythm.  I was aiming to sit on 4:30 km/h pace as discussed with Mark, but I started out at 4:15, so I decided to see how long I could hold that pace for.  I hadn't run the course previously, but had read it was undulating, so time would tell if my pacing was ambitious.  At the top of the first climb, I was passed by a strong runner, flew past me actually.  I wasn't bothered as I was happy to just keep ticking over at 4:15.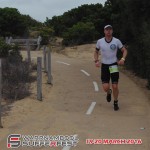 After the 5km mark, I had dropped a couple of places, but was holding my pace and felt really comfortable, unusually so.  I had to keep checking my watch as I felt too good, normally the high tension power lines throw my Garmin readings, but on this occasion, there were none to be seen.  At the half way mark (10km), I was feeling strong and was confident I could maintain the pace.  To my surprise, I caught the guy that flew passed me on lap one, only for him to then speeden up and pass me again.  Oh well, what ever works for him I suppose.
Anyway, it was only a matter of time before I caught and passed him again, this for the last time.  I dropped a further place after 15km, this eventually costing me a spot on the podium.  Run course completed in 1:25, 7th in category and 25th overall.
Total Time 3:58 (4th in category, 15th overall).
WRAP UP
Sufferfest was an opportunity to see where training was at, yet it ended up being so much more.  My swim technique has been on the improve thanks to Ryan's stroke assessment at CF Racing, now more efficient than ever.  The 20w increase in my recent FTP test transferred into the bike split. Its great to get results in training, but to then deliver it in a race is awesome.  I must admit that it took a good 2 months before I started to feel strong on the Cervelo P2.  As for the run, I am truly pleased with the result.  To put in a run within a minute of my best stand alone half marathon (non triathlon) was awesome and actually felt more comfortable than the stand alone half marathon effort.  I also used my new Brooks Launch which were again fitted using the motion analysis at Activefeet Heathmont, the lighter shoe made a noticable difference.
So in short, we are in a good place.  We have one last block to get through before the taper for Ironman Australia and Sunday was a big confidence boost.  Dare to Dream!