Swim
Goggles: Speedo Mariner
Good reliable pair of goggles at the right price point, particularly as I loose a pair every six months on average.  They are prone to fogging up though.
Tri Suit: 2XU long distance TriSuit
My first tri suit. No issues for comfort during Ironman Australia. Bit disappointed that the 2XU logo has started peeling off.
Wetsuit: Blue Seventy – Helix
My first premium wetsuit and let me tell you, it hasn't disappointed. The suit feels completely different to anything else I have tried.
As for getting one, go to the guys at aquashop, their service is incredible and makes getting the right fit easy.
---
Bike: Cervelo P2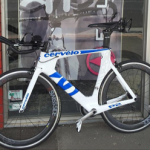 It was a lesson in patience, saved for awhile to get this machine and it will get me to Kona.  It might be the entry level ride, but its a massive leap from what I was riding.
The stages power meter is awesome, although there was some nervous moments when we initially fitted the crank, it just clear the frame.
Finally, the Swissside Hadron  625 (front and back) Carbon/Alloy rims are unreal and the sound they make has to be heard to be believed.
Special mention to Herb @ Fuel Performance who keeps the machine in perfect order.
---
Footwear
Runners: Brookes Defyance 7
Reliable runners, most of the time. A little on the heavy side, innersoles get distorted when wet which is a first. Looking to upgrade soon.
Socks: Balega Hidden Comfort
Truly the best socks I have come across. If you haven't tried them, do so as they are sensational

---
Technology
GPS: Garmin Forerunner 301xt
Perfect multi purpose watch, even better as it can measure power on the bike as well. Certainly a step up on the Garmin 305 forerunner. Battery lasts the full Ironman as well.